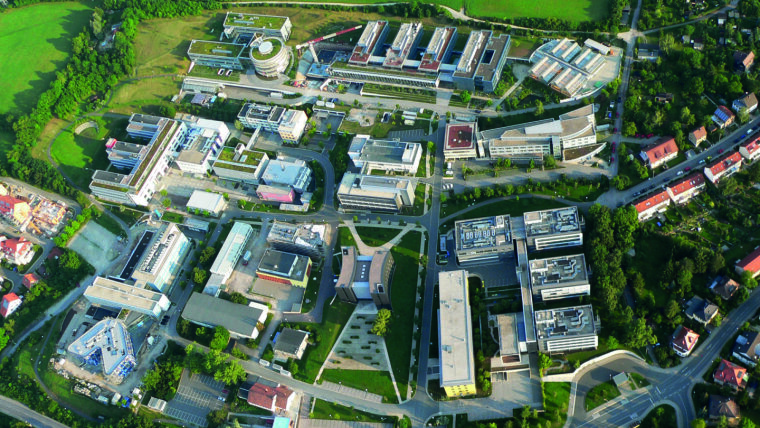 Facilities
Significant parts of our research are hosted in the ACP research building located at Albert-Einstein-Str. 6, 07745 Jena.
Aerial view on the Beutenberg campus in 2019.
Image: Dr. Jörg Müller.
ACP research building at the Beutenberg Campus
Parts, but by far not all of our research, are hosted in the ACP research building located at Albert-Einstein-Str. 6, 07745 Jena. The building was opened in immediate vicinity to the Institute of Applied Physics, the Fraunhofer Institute for Applied Optics and Precision Engineering and the Leibniz Institute of Photonic Technology. It has been funded by the State of Thuringia and the German federal government with more than 24 million Euro. It offers 2,600 m² space including top-notch functionalized optical, biological and chemical labs, seminar rooms, offices and an auditorium. Since 2016, the research site evolved into a strategic and integrative hub for interdisciplinary exchange within the main ACP research areas by hosting laboratories for joint research, and enhance the integration of ACP's educational programs into its research.
Substantial installation of research infrastructure and laboratory equipment inside the ACP building were funded by the State of Thuringia and the European Funds for Regional Development (EFRE) within the infrastructural measures ACP-IPHT-FIB (2015 FOR 0005), ACP-MESOLAB (2015 FGI 0024), ACP-RÖNTGEN-BIOBILD (2017 FGI 0030), and ACP-CNQN (2018).
Currently, the ACP building is hosting the groups of ACP principal scientists Limpert, Rothhardt, Setzpfandt and Pertsch, as well as parts of the research of the ACP principal scientists Eilenberger, Heinemann, Popp, Schmitt, Schubert, and Tünnermann.
Photonics flagship equipment and facilities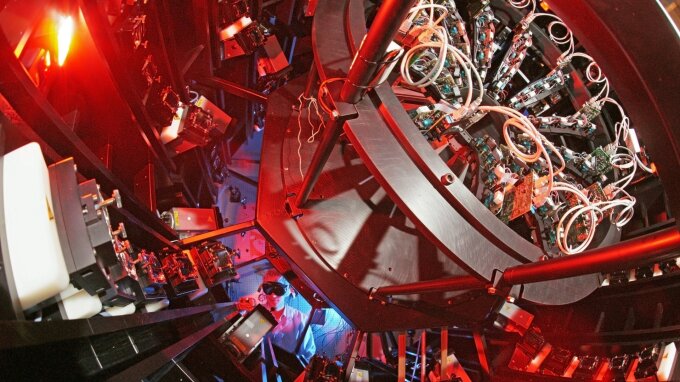 Penultimate amplification stage of the high-power POLARIS laser system.
Image: Jan-Peter Kasper (University of Jena)
ACP scientists enjoy access to a large variety of facilities and research equipment located at the affiliated university and non-university institutions. These facilities comprise state-of-the-art optical equipment and processing capabilities which are regularly open for visiting scientists to help realize excellent research centered at, but not restricted to the fields of optics and photonics, and which could interface adjacent fields such as general physics, chemistry, biology and physiology. The facilities are operated by scientists at all academic levels as well as by experienced technical staff. The photonics laboratories offer a wide range of complex setups and characterization methods for studying and exploring optical effects, components, materials and devices, at both the fundamental and application-oriented levels. ACP flagship equipment includes
ultrashort and ultrahigh peak power laser sources,
optical instrumentation for extreme wavelengths,
a multitude of spectroscopic and microscopic setups,
optical fiber technologies,
> 1,200 m2 clean room area,
high-resolution electron and ion beam imaging and lithography tools,
comprehensive nanostructure technology facilities,
lithographically controlled chemical syntheses,
biophotonic diagnosis tools,
a variety of optical modeling and numerical simulation tools for photonic systems.
Public rooms for science communication
ACP is organizing an thrilling and inspiring program throughout the whole year, including international conferences and workshops, keynote lectures and research group seminars. In the public areas, seminar and meeting rooms can be reserved for events in the area of scientific communication and education in the context of optics and photonics:
The auditorium (capacity of up to 142 people) and the two seminar rooms (for 18 and 42 participants, respectively) of the Abbe Center of Photonics are located in the foyer area in the ground floor of the building, Campus Beutenberg, Albert-Einstein-Straße 6, 07745 Jena. These rooms are of the highest standards, technically fully equipped and  can be reserved for optics and photonics communication and networking events such as group seminars, workshops and conferences.
The meeting rooms 106, 207 and 306 (capacity up to 12 people each) are located in the upper floors of the Abbe Center of Photonics according to the first digit of their number. External guests should take the public staircase from the foyer area and ring the bell at the individual doors to the meeting areas or call the secretary's office from the phones at the building's entrances (dial 47561).
For reservation and further information, please contact Ms. Rebeca Freyberg (rebeca.freyberg@uni-jena.de, +49 3641 947961).
Photonics computer pool
The computer pool in the ACP building is used for PC-based photonics lectures and seminars such as, e.g., computational photonics, optics design, and many others. Apart from the lectures and seminars, the ACP computer pool is open to all members of the University on working days from 7:45 am until 6 pm. Any student and/or scientist can log in via the regular, personalized university account and freely use the following software packages:
Comsol 5.2a
MATLAB R2015b
Math Type 6
Microsoft Office 2016
MiKTeX 2.9
Origin Pro 2015G
Python 3.5
Virtual Lab Fusion (User Experience Edition 2016)
Wolfram Mathematica 11
ZEMAX OpticStudio 16.5
Photonics library for students
ACP has an in-house library stock of special and up-to-date literature on photonics. This stock particularly hosts books which are strongly recommended for accompanying studies during the first, second and third semester of the M.Sc. Photonics course. This students' literature stock is officially part of the Thuringian University and Federal State Library (ThULB). The photonics literature includes, but is not limited to, the state of the art on fundamentals of photonics, quantum optics, optics design, biophotonics, optical engineering and laser physics.
A detailed list of all available books can be accessed here: ACP photonics library content.
All books can be rented for home studies by every photonics Master's degree or doctoral student at the second floor of the ACP main building. To access or to rent any of these books, please contact rebeca.freyberg@uni-jena.de.
Time-compressed movie of the construction of the ACP building
Video: Christian Helgert, ACP/FSU.
Laboratories of the Schubert Group in the ACP