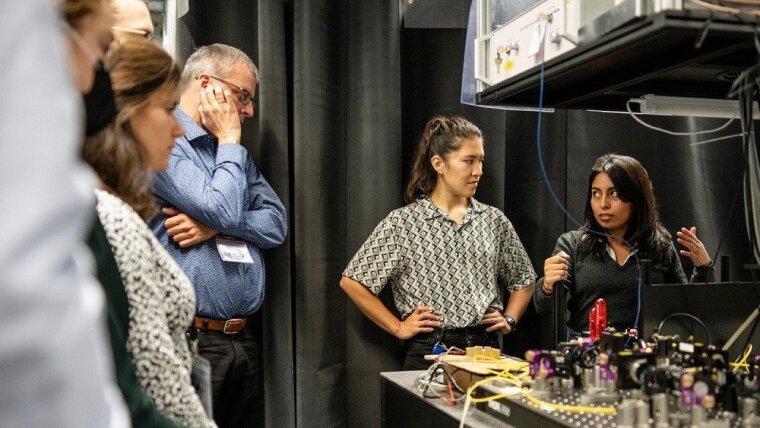 New wavelength ranges for photonic integrated circuits
Launch of the RAINBOW project at Fraunhofer IOF.
Quantum Lab visit at Fraunhofer IOF in October 2022.
Published: | By: Desiree Haak, Fraunhofer IOF.
In the future, integrated optics with even more complex optical functions will open up new fields of application in the areas of sensor technology, communication and quantum technologies. The research project RAINBOW locates itself in this research field and is therefore investigating how new wavelength ranges can be opened up. The project has now officially started with a kickoff on October 19 in Jena, Germany.

Integrated optics, so-called photonic integrated circuits (PICs), are essential tools in photonics. So far, they have been developed mainly for optical data transmission. However, there are also new, promising fields of application in the areas of sensor technology, communication or quantum technologies. Here, PICs must perform increasingly complex optical functions. The aim of the new research project RAINBOW is therefore to open up new wavelength ranges for PICs.
Of particular interest are wavelengths up to the short-wave edge of the visible spectral range at 450 nm. In this spectral range, there are sensor technologies used in a wide variety of fields, such as Light Detection and Ranging (short: LIDAR, 980 nm), Optical Coherence Tomography (OCT, 1060 to 1300 nm) or ultra-sensitive magnetic field sensor technology in medical applications based on NV centers in diamond nanocrystals (637 nm). Medical diagnostic applications also rely on optically detectable biomarkers, which typically fluoresce at wavelengths less than 670 nm.
Highly integrated optics in the spectral range from 450 nm to 1650 nm
The main challenge for the extension of the wavelength range of PICs is to find a uniform material and component basis for the integrated optical key functions. In the RAINBOW project, this gap is to be closed - namely by a hybrid combination of different material platforms fully exploiting the potential of highly integrated optics in the spectral range from 450 nm to 1650 nm.
Three key technologies are being advanced to enable the extension of the PICs' wavelength range: First, the establishment of an integrated optical platform based on new lithium niobate (abbreviated: LN)-on insulator (LNoI) materials. Further, the extension of the spectral range of silicon nitride integrated optical waveguides as well as their hybrid integration with active and passive components to create compact PICs. The aforementioned materials enable the development of this very large spectral range. Hybrid integration also ensures direct connection to established systems based on silicon (Si), indium phosphide (InP) or gallium arsenide (GaAs).
Three demonstrators by RAINBOW project
The goal of the RAINBOW project is to present a novel and highly flexible technology platform. The significantly extended application potential compared to already established approaches will be underlined by three demonstrators that will be developed in the project: First, a chip-integrated frequency conversion for sensor technology, second, PICs for a broadband 50 GHz modulator for data transmission and third, a chip-based frequency comb for metrology.
The RAINBOW project thus addresses target markets for new technologies, components and systems in the field of optical communication as well as space communication, sensor technology and quantum technologies. In addition, further marketing channels are emerging, e. g. in the new field of optical computing.
Cooperation with Fraunhofer HHI
The project is led by ACP principal scientist Fabian Steinlechner. It is being implemented with a volume of three million euros as part of the Fraunhofer PREPARE research program. 1.5 million of this is accounted for by ACP's prime partner, the Fraunhofer IOF.  The Fraunhofer Institute for Telecommunications, Heinrich Hertz Institute HHI from Berlin is the cooperation partner for the RAINBOW project. 
Fraunhofer HHI is contributing its expertise to the project, particularly related to the realization of high-bandwidth modulators and hybrid integration. Regarding high-bandwidth modulators telecom applications, their indium phosphide (InP) platform is well established for applications in the telecom wavelength band but cannot be used for applications such as sensor technology with wavelengths shorter than 1250 nm. New PIC technologies must be developed for this spectral range. For this purpose, the consortium perfectly combines Fraunhofer HHI's capabilities and market understanding in PICs with Fraunhofer IOF's competencies in the fields of sensor technology and quantum technology.
Image: Fraunhofer IOF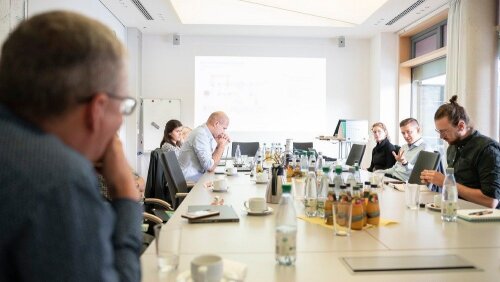 RAINBOW kickoff
The kickoff of the RAINBOW project took place on October 19, 2022 in Jena, Germany.
Department Emerging Technologies
Fabian Steinlechner, Dr
Research Group Leader
Room EG02/306
Albert-Einstein-Straße 7
07745 Jena
Desiree Haak
Press & Public Relation
Albert-Einstein-Str. 7
07745 Jena