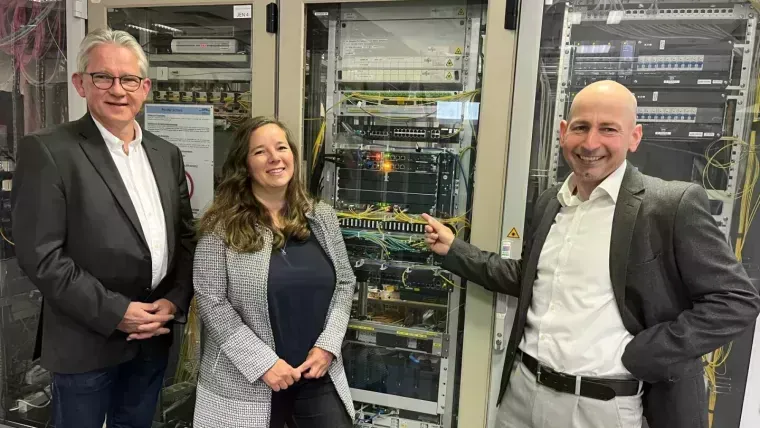 More Internet for Jena
A "wedding" of the wireless internet networks of the University and the Stadtwerke Jena
Stephan Golembiewski (l.), MeinJena Project Manager Christina Hentschel and Olaf Schneider.
Published: | By: Tina Schnabel, English translation by Gleb Chupakhin
A collaboration between two local partners has brought a new boost to digitalization in Jena: Thanks to the technical "marriage" of the eduroam WLAN network of Friedrich Schiller University Jena to the MeinJena WLAN network of the Jena City Utilities (Stadtwerke Jena), numerous new locations in the city on the Saale now have free internet access.
Thanks to the collaboration, the MeinJena WLAN network can now be accessed using the university's existing WLAN technology at over 120 new locations in Jena. The network is accessible both inside of the university buildings and in the adjacent outdoor areas. In addition to central places such as the Botanical Garden, the Phyletic Museum, the Abbe Campus, the Haus auf der Mauer, and the Main University Building (Universitätshauptgebäude), the MeinJena WLAN is also available in some student dormitories, dining halls, the university sports club grounds, and at the Johannisfriedhof. In return, the eduroam network can be used without changing any settings at approximately 20 locations including the Market, Löbdergraben, Holzmarkt, Teichgraben, Paradies, Volkshaus, Sparkassenarena, and the public Jena baths using the wireless internet infrastructure provided by the Stadtwerke Jena.
Stephan Golembiewski, Head of Network Operations at Stadtwerke Jena Netze, said, "Even during the testing phase, it became evident that our new offering was being very well received, and through the Stadwerke's technology, over 800 eduroam users per day have been consistently provided with stable WLAN. I'm delighted that we were able to create this new digital service for Jena together with the university." Dr. Olaf Schneider, Director of the Computer Center at Friedrich Schiller University, stated, "The University of Jena operates approximately 1,200 Wi-Fi access points within its buildings, not including those of the hospital. Through the collaboration with the city utilities, we are improving the working and studying conditions for university members and enhancing the quality of life for everyone in the City of Light."
Immediate App-free Availability: 48-Hour-Ticket for MeinJena WLAN
In addition, the newly available 48-Hour-Ticket for MeinJena WLAN offers extended options for WLAN access offered by Stadtwerke Jena specifically for guests of the city and the university. With the 48-hour ticket, MeinJena WLAN can be used for a limited period of time without the need to install the MeinJena app. This new offering expands the usability of the MeinJena wireless network beyond, as before, just smartphones, now also functioning on mobile computers such as laptops, thereby providing additional opportunities for guests attending meetings and conferences.
University Computer Center
Universitätsrechenzentrum, Room E038
Am Johannisfriedhof 2
07743 Jena