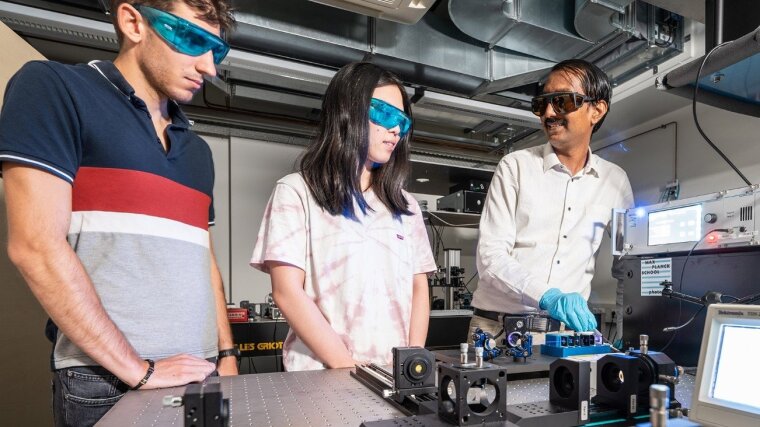 Experimental quantum computing for students
ACP and Fraunhofer IOF partner to enable students' experiments wiht "IBM QSystemOne".
Quantum education lab qp-tech at ACP headed by Dr. Rudrakant Sollapur.
Published: | By: Desiree Haak/Fraunhofer IOF, edited by Christian Helgert
Exclusive learning with the world's first commercial quantum computer: a consortium led by the Abbe School of Photonics has enabled doctoral students and undergraduates to simulate quantum experiments on the "IBM QSystemOne" quantum computer. Experimental quantum technologies of this kind are to become an integral part of education and training in Jena in the future.
Practice makes perfect: True to this motto, doctoral students and undergraduates have had the opportunity to perform complex quantum experiments on the Fraunhofer quantum computer "IBM QSystemOne" for the first time this semester. "Our goal was to make real state-of-the-art quantum experiments accessible hands-on," explains ACP principal scientist Dr. Falk Eilenberger. Together with his colleague, ACP principal scientist Dr. Frank Setzpfandt, he led a lab course entitled "Experimental Quantum Technologies" at ACP and Fraunhofer IOF.
The teaching format was complemented by the opportunity to jointly implement experiments on the Fraunhofer quantum computer. "We are thus fulfilling one of the promises of the Second Quantum Revolution in teaching: making quantum physics vividly comprehensible and making it accessible in concrete examples," says Setzpfandt.
Frank Setzpfandt, Dr
Research Group Leader
Abbe Center of Photonics, Room 309
Albert-Einstein-Straße 6
07745 Jena