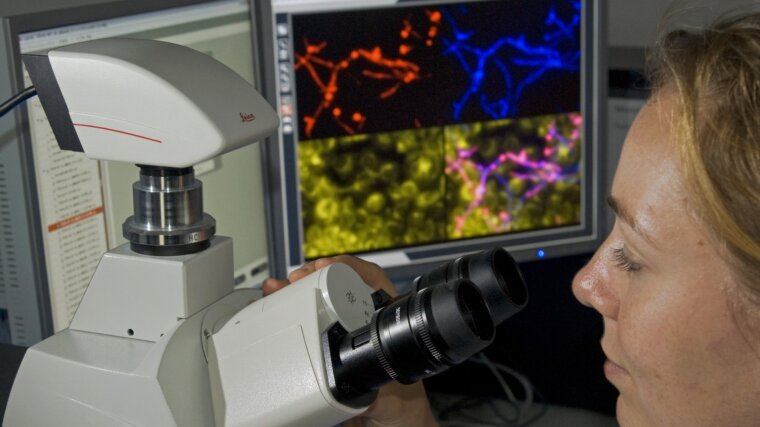 Clinical Spectroscopic Diagnostics
Prof. Dr. Ute NEUGEBAUER
Microscopical bio-sample inspection.
Ute Neugebauer is professor of Physical Chemistry and head of the research department Clinical Spectroscopic Diagnostics at the Leibniz Institute of Photonic Technology (Leibniz-IPHT). She is deputy scientific director of the Leibniz-IPHT, leader of the Core Unit Biophotonics of the Center for Sepsis Control and Care at Jena University Hospital and involved in the Executive Committee of the Core Facility Jena Biophotonic and Imaging Laboratory (JBIL).
Research Areas
The main research interest of the group of Prof. Neugebauer is the investigation, development and application of novel spectroscopic tools and methods for medical diagnostics and the characterization of physiological interactions in particular in the context of infections and sepsis. This includes the detailed characterization of the pathogen causing the infection, its localization within the host cells, the elucidation of its interaction with drugs and with the host, and the analysis of the host response to the infection, here with a special focus on immune cells.
Teaching Fields
Prof. Neugebauer gives lectures for students in chemistry and the interdisciplinary Master's degree course Medical Photonics. Her courses include: 
Physical chemistry
Light-matter interaction
Applied physical chemistry 
Her teaching is devoted to the early involvement of students and young scientists in state-of-the-art research.
Research Methods
In our research we use advanced biophotonic tools with a focus on Raman- and fluorescence-based methods. To allow optimal handling of biological samples and in order to shorten the time required for diagnosis, we integrate label-free and non-destructive photonic methods into bioanalytical chip systems.