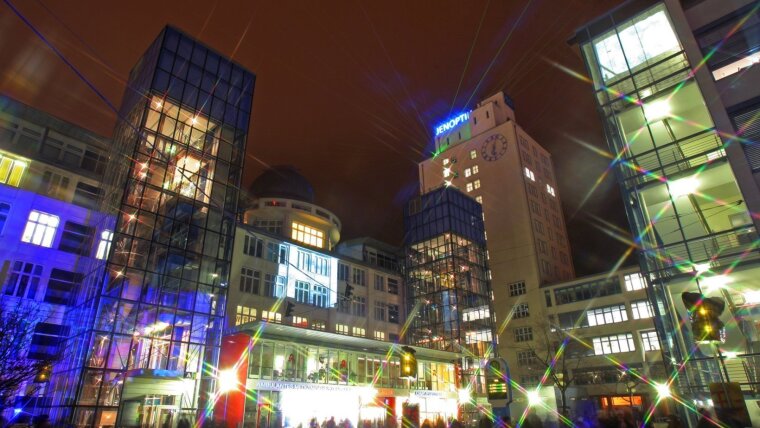 How to find us
Details information about Jena and the ACP's main venues.
Nocturnal university campus in Jena.
You can reach Jena...
...by plane - The closest international airports to Jena are Frankfurt/Main (FRA), Berlin Schönefeld (SFX), Leizig/Halle (LEJ) and Munich (MUC).
...by train - There are hourly connections to two train stations in Jena: (1) from Berlin and Munich to "Jena Paradies" station, (2) and from Frankfurt/Dresden to "Jena West" via Weimar or Erfurt.
...by car - Jena is situated north of the A4 highway between Dresden and Frankfurt/Main. On the A4 take the exit to "Jena Zentrum" to access the city center within 15 minutes.
The seminar rooms and auditorium of the Abbe Center of Photonics are located in the foyer area in the ground floor of the Abbe Center of Photonics building, Campus Beutenberg, Albert-Einstein-Straße 6, 07745 Jena. The meeting rooms are located in the upper floors of the Abbe Center of Photonics according to the first digit of their number. External guests should take the public staircase from the foyer area and ring the bell at the individual doors to the meeting areas or call the secretary's office from the phones at the building's entrances (dial 47961 or 47561). For further information, please contact our ACP assistant, Mrs. Rebeca Freyberg (rebeca.freyberg@uni-jena.de, +49 3641 947961).