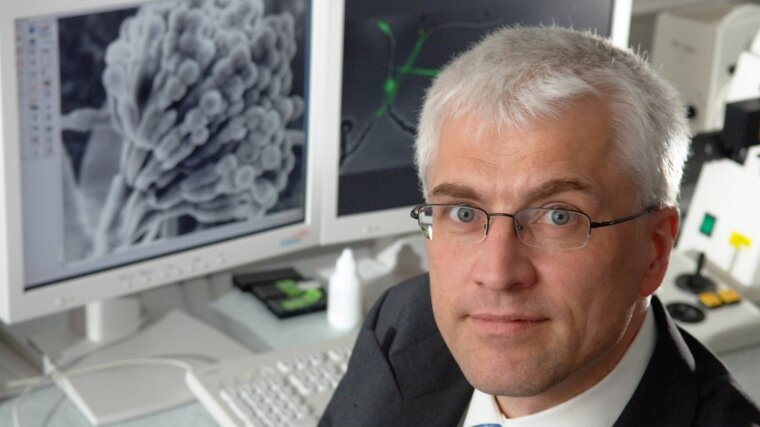 Microbiology & Molecular Biology
Prof. Dr. Axel BRAKHAGE
Axel Brakhage is the scientific director of the Leibniz Institute for Natural Product Research and Infection Biology (HKI) and head of the department of Molecular and Applied Microbiology. Since 2004 he holds a Chair of Microbiology and Molecular Biology at the Institute of Microbiology. He coordinates the Excellence Cluster "Balance of the Microverse", the CRC/TR 124 "Pathogenic fungi and their human host – FungiNet" and the BMBF consortium InfectControl. He is a member of the board of the Leibniz Institute for Photonic Technologies in Infection Research (LPI). He is an elected member and senator of the National Academy of Sciences Leopodina. Currently, he serves as vicepresident the German Research Foundation (DFG). He is member of several scientific advisory boards.
Research Areas
Prof. Brakhage's research focuses on all aspects of the pathobiology of the human pathogenic fungus Aspergillus fumigatus and on the molecular biology/ biotechnology of fungal natural products and related microbial communication, including: pathogenicity determinants, interaction with the immune system, immune evasion, systems biology of fungal infection, proteome and transcriptome analyses, transcription factors, the activation of silent gene clusters using genetic engineering, drug discovery and antibiotics, histone modifications, microbial communication such as interaction of fungi and bacteria leading to the activation of silent gene clusters with the production of novel compounds; molecular mechanisms of cross talk.
Teaching Fields
Prof. Brakhage's teaching is devoted to the early involvement of young scientists in research, as well as to the education of postgraduates. He gives courses in:
Applied microbiology and molecular biology
Molecular biotechnology/ infection biology of lower eukaryotes
Research Methods
The laboratory led by Prof. Brakhage offers methods for the characterization of immune effector cells, the molecular biology of fungi, biochemistry and biotechnology:
2D-gel electrophoresis and MALDI-TOF/ TOF mass spectrometry, proteomics
Fluorescence and confocal laser scanning microscopy, cell culture techniques
Plasmon resonance spectroscopy
Murine infection models, analysis of immune cells
Isolation of compounds, transcriptome analyses
Recent Research Results
Axel Brakhage's group has been investigating the pathobiology of the human-pathogenic fungus Aspergillus fumigatus for which the first pathogenicity determinant, dihydroxynaphthalene (DHN) melanin, was discovered. This determinant has major effects on the intracellular processing and apoptosis of human immune effector cells, at least in part by modifying lipid rafts of the phagolysosmal membrane. During this work, the group also contributed to the discovery of a human receptor sensing DHN melanin and of Th17 cells directed against A. fumigatus, that are induced almost exclusively by crossreactivity to Candida albicans. Recently, it was also found that A. fumigatus induces the formation of extracellular antifungal vesicles in human neutrophils [1, 2, 3, 4].
His group has been working on the regulation of the biosyntheses of fungal natural products, many of them being important drugs. His group showed that fungal  silent gene clusters are induced by microbial communication, i.e., triggered by a specific bacterium [5]. His work has opened up the possibilities for further investigation of these thus far untapped reservoirs for drug development purposes. This research also contributes to the understanding of how microorganisms communicate with each other. The group has been applying methods of functional genome analysis such as proteome and transcriptome analyses.
[1] Schmidt et al., Cell Reports 32, 108017 (2020).
[2] Shopova et al., mBio 11, e00596-20 (2020).
[3] Bacher et al., Cell 176, 1340 (2019).
[4] Stappers et al., Nature 555, 382 (2018).
[5] Stroe et al., eLife 9, e5254 (2020)